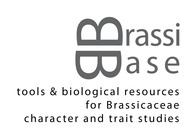 Login and Registration
Since 2018-05-25 there is no login or registration necessary or available for BrassiBase anymore.
No personal data related to former user accounts is stored on the system.
The search field accepts scientific plant names, i. e. names of genera or Brassicaceae tribes.
Examples:
Camelineae — will find information about all member genera of tribe Camelineae.
Arabidopsis — will find information about the genus Arabidopsis.
After having typed 3 characters, you'll be provided with suggestions from the database.